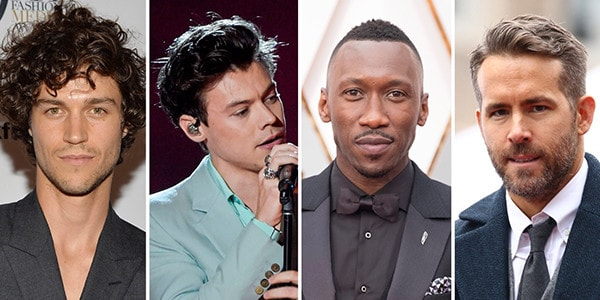 New Year, New You
A new year brings a clean slate, a fresh beginning. For Benjamin Ryan that means taking stock of your whole look particularly the hairstyle you rock. Follow these celebrity trends to see how these gents are redefining their look for 2018.
A sartorial lift

There's a good reason why the POMPADOUR is every male model's go-to. It requires little upkeep, it's both debonair and pulled together and it pairs brilliantly with some creative stubble.

This year, take your cue from actor Mr John Cho who styles the pompadour in a more subdued, grown-up fashion. A lower quiff height and cleaner, less exaggerated sides make the look more polished.

With our precision cutting this is a great flexible style. Finish with a quick 'cold' blow dry to set and go.

The easy sweep

Ryan Reynolds has a knack for capturing the mood of the moment and giving it a twist. A slight undercut, sure, but it's nothing too severe. The side parting isn't Don Draper-rigid, it's more loose and laid-back. Most wonderful of all, he's embraced the grey hairs, a grooming sentiment worthy of emulation.

"This cut is all about the connection between the sides and top" says Benjamin, "there needs to be a seamless transition." A great look when heavily texturised. A new timeless classic!

Ride the wave

Actor Brenton Thwaites may be young, but he has already learned a crucial element of mid-length hair: texture. Free-flowing as they may seem, the wavy layers of his hair are achieved first and foremost through a clever cut. A gentle side parting gives this style texture, definition and direction.

"Texturising the ends here gives a boyish, messy look," says Pamela Cooney (Style Director at Benjamin Ryan). "It's a look tailor-made for locks that are straight or have a gentle wave."

A little sea salt spray before blow-drying will result in a more natural look that you can run your fingers through. Smooth the groove gents.

Fade away

Much like the captivating roles that catapulted Mahershala Ali to rightful prominence (House Of Cards, Moonlight), this HIGH FADE is more nuanced than it may initially seem.

"This is quite a technical cut" says Nancy (Creative Director at Benjamin Ryan), "leave it to someone you can trust." Ask for a skin fade, high and tight and cut-throat the perimeter, too. It makes all the difference keeping your neck hairs at bay.

For thicker, dryer hair, it always pays to add a little sheen for a healthy finish. Kérastase Aura Botanica shampoo will give you this natural shine for those special red carpet moments.

Let loose

The worlds of style and music mourned the loss of singer Mr Harry Styles' longer locks, but his pivot to mid-length feels worthy of the next stage of his career. This LOOSE SWEEP has all the length of a traditional slick-back, but keeps things natural with plenty of texture and a looser matt hold.

"Texture, texture, texture" says Ryan. "We point-cut the ends to give it that messy-sharp look and leave a little length over the ears to transition into the longer hair on top."

The look is nonchalant and messy, but don't skip the essentials, cleaning up your neckline will ensure you stay looking sharp.