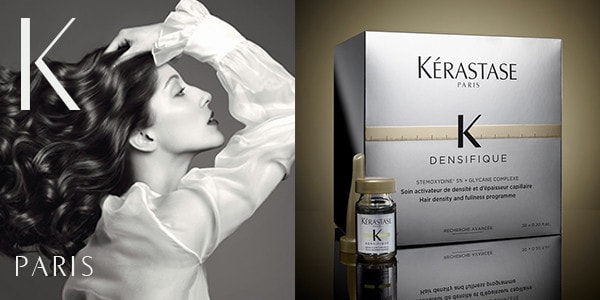 Kérastase Hair Treatment
Cut your losses!
The stresses of modern life mean that excess shedding can be a problem for women. Kérastase Advanced research have discovered that stem cells perform a critical role during hair growth cycles. Internal or external aggressions – UV, stress, and hormonal disorders alters the ability of stem cells to function. This slows growth and in some cases the follicle no longer produces hair.

To combat this Kérastase have developed Cure Anti-Chute - the first hair density activator on the market. This anti-hair loss formula extends the life of hair and helps activate the full regenerating potential of stem cells to produce new hairs.

In addition, Kérastase have developed a Densifique Femme Hair Density Programme (£104 for 30 days). Proven to slow hair loss and support stem-cell function this is a great aid to achieving thicker, fuller hair. With over 10 years of L'Oréal expert research to back up the science we think these are real game-changing treatments.

Ask one of our Kérastase hair specialists how this could work for you.