Brazilian Blowout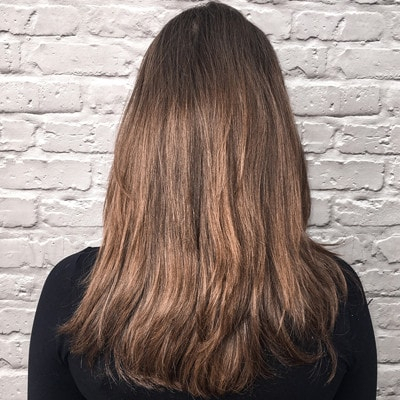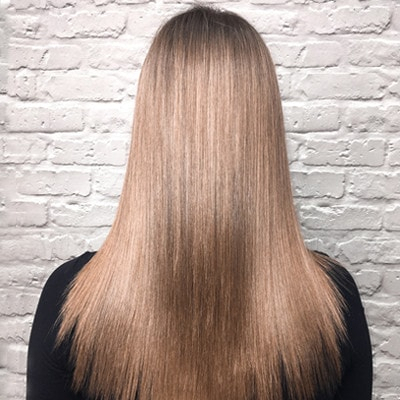 Originating in Brazil, this Blowout hair treatment leaves hair less frizzy, super hydrated and insanely glossy.
What is a Brazilian Blowout?
Originating in Brazil, this Blowout hair treatment leaves hair less frizzy, super hydrated and insanely glossy.
Brazilian Blowout hair treatment is a liquid keratin formula that bonds to your hair to create a protective layer around each strand, effectively diminishing frizz, sealing the cuticle, and protecting against any external damage.
How is this different from other Keratin treatments?
Brazilian Blowout has a mild formula that can be tailored to your hair type. Unlike with other Keratin treatments, with the Brazilian Blowout, you get it applied, your stylist rinses it out, and that's it. You're back to normal again in an instant!
Will it make my hair completely straight?
Not unless you want it to. Your stylist will seal in the treatment by passing a heated iron over your hair, and the more your stylist irons, the straighter your hair will be. If you like to wear your hair curly, but just want to tame your frizz, this will help make your hair more sleek and manageable. Just tell your stylist exactly what you want and they can tailor the treatment to either preserve the texture of your hair, or make it smoother and straighter. Overall goal is to help make your hair easier to deal with and reduce blow drying times by half.
Is a Brazilian Blowout safe?
The treatment is safe on any hair type and actually helps to improve shine as well as moisture levels. You can be assured all of our stylists are fully trained and will know how to best take care of your hair.
How long does it take and last for?
In general the process takes between an hour and two hours depending on the length and thickness of the hair. First we shampoo hair with a specialised clarifying shampoo to create a base for the treatment to adhere. Next, the Brazilian Blowout formula is applied section by section then blow-dried smooth. A maximum heated iron is then used to seal it in, then it's rinsed off, followed by a deep conditioning mask and a final blow dry.
By using a sulfate and chlorine-free shampoo your treatment should last anywhere from 3-4 months - possibly longer depending on washes.
What if i have colour-treated hair?
"Brazilian Blowout is completely safe on colour-treated strands" says our Colour Technician Paige, and since it completely seals off the hair shaft, there's a chance your hair will stay vibrant for longer!
What should I do after my Brazilian Blowout treatment?
Since the treatment is rinsed out in the salon, you can wait as long or as little as you like to wash it - just be sure to use a sulfate and chlorine-free formula to preserve it.
Short hair from £80
Mid-Long hair from £185
Terms and conditions apply. Ask us for further details.

Maddox House, 117 Edmund St, Birmingham, B3 2HJ
Sun - Mon - Closed, Tue - Wed 9am - 6pm, Thurs - Fri - 9am - 8pm, Sat - 9am - 5.15pm

Subscribe to our journal