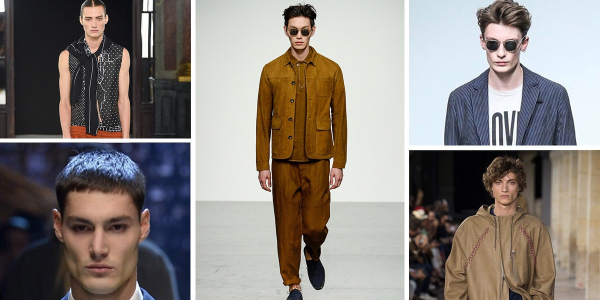 Men's Hair Trends 17/18
Whether ultra-long, slicked back or austerely shaved, from New York to Milan, check out the hair trends that kept coming back to the runway at Menswear Week 2017/2018
Quiffed back hair


With not a hair out of place, Mad Men-esque slicked back hair models show their gentlemanly sides. We love how this is worn with a looser texture and a more natural finish for a slightly softer look.

Seen at: Gucci, Prada, Emporio Armani and Versace.





Choppy crop

Short and severe military-inspired hairstyles such as the buzz cut are typical fashion week stalwarts. This season designers that focused on urban wear rather than tailoring – including Lanvin, Oliver Spencer and Topman Design – also opted for slightly more length through the top. This sharp look will accentuate your bone structure.

Mid-length hair

Spotted at some of the biggest shows, 1970s-style mid-length hair was unquestionably the hair trend to watch at Menswear Week. The likes of Gucci, Cavalli, Hermès and Etautz showcased their individual takes on the look. Embrace your curls.






Middle parting

Whether on short hair or long hair the middle parting is back. We prefer just off-center with a softer finish, seen here at Raf Simons AW17. Stylists also used high shine products when executing the parting to achieve a more edgier look. Bring on the nineties youth!