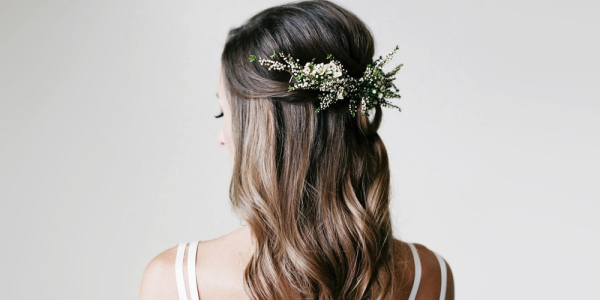 Perfect Wedding-ready Locks
How to get the most out of your stylist and Wedding Hair Trail
Every bride should feel nothing short of heart-thumping gratitude and affection for her hair stylist on her wedding day. So, what's the secret to great wedding hair? Work it all out in rehearsal at your wedding hair trial. This crucial pre-wedding hair appointment will set the tone for your overall beauty look on the wedding day. So, in order to make sure your locks are primped and coiled to perfection (and, most importantly, to your liking) when you walk down the aisle, there are certain measures you need to take before your hair trial to get the most out of the experience. Read on to find out what to expect and how to prepare for your wedding hair trial to ensure you'll end up with the beautiful, long-lasting hairdo of your dreams.
Pace Yourself

Schedule your hair trial three months before the wedding. If you book it too early in the planning process, changing trends or chronic indecision could lead to second-guessing.

Plan a night out

Have a GNO the evening of your trial to see what longevity the style has. Take some extra grips with you just in case you need some support in a certain area.

Be salon ready

Wash and dry your hair beforehand without using any hot styling tool, this will enable us to spend longer on your hair rather than the prep.

One of the most important wedding hair trial tips is to put your best face forward, since you'll be staring at yourself for a few hours. If you can, schedule your makeup trial to happen right before your salon visit.

Aid the stylist

So your stylist has the full picture bring visuals—anything from a photo of you in your dress to the flowers you'll be carrying. Be familiar with the style your choosing and don't go for something because it looked great on someone else. Tell us exactly what you're thinking and why. And just bring one trusted friend - too many voices creates chaos and confusion.

Perfecting colour

Want to add colour to enhance your look on the big day? Depending on what colour you'd like to achieve we advise to plan 4-6 months in advance to ensure we create the colour you always dreamt of. Building up your hair condition is key and planning ahead will mean you can sit back and let us do the work.

Look your best with Benjamin Ryan

Benjamin Ryan are renowned for our in-depth consultation process using visual mood boards and creating your own bespoke profile. From working with your face shape, skin tone and hair texture, we'll ensure you look good from every angle.