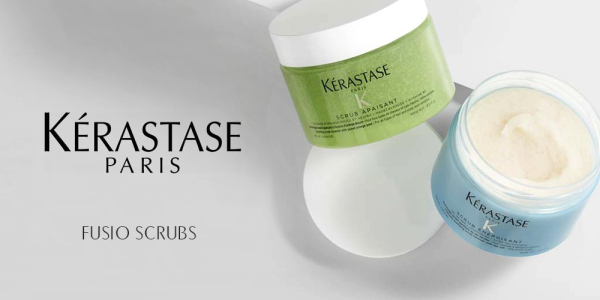 Scrub up a treat
Are you suffering from lifeless hair that's in need of some TLC? Well you're in luck – Benjamin Ryan are now providing two new Kerastase Fusio Scrub treatments that will give your hair the deep cleanse and uplift it so badly needs. Sounds too good to be true? Well here's a Q&A that'll provide you with everything you need to know.

What are hair scrubs?

A chemical granular substance that cleanses much deeper than shampoo whilst also exfoliating the scalp to help remove dead skin cells, pollutants and impurities. Fusio Scrub strips the dirt out of each strand whilst simultaneously giving you extra shine and volume.

Why should you get a Fusio Scrub?

A busy lifestyle means dirt from the environment build ups and regular shampooing simply can't dislodge it all. Fusio Scrubs remove any unwanted dirt by penetrating deeper into the scalp and used in conjunction with Fusio Dose, they also strengthen the hair, encourage growth and add extra gloss. With a head massage incorporated into the Fusio Scrub exfoliation treatment it's also a very relaxing experience.

Are there different scrubs for different hair types?

Of course – not everyone needs the same thing, each and every individual will have unique needs. The Energising Scrub is designed for those with a oily hair and scalp whilst the Soothing Scrub is designed specifically for those with a sensitive scalp. All scrubs are enriched with vitamins so this is the perfect pick me up add on treatment for every Benjamin Ryan hair salon visit.

What is the treatment process?

The most suitable scrub and oil will be selected by your BRH stylist and mixed together into a formula. The formula is then distributed over the scalp in circular motions, whilst small amounts of water are added to create a lather and rinse away the dirt.

Can I use it at home?

Yes! The scrubs can be purchased in our salons for use at home – after your in-salon experience we recommend applying it once a week.

Ask for our salon treatment menu for a whole range of professional therapies that care for your hair.