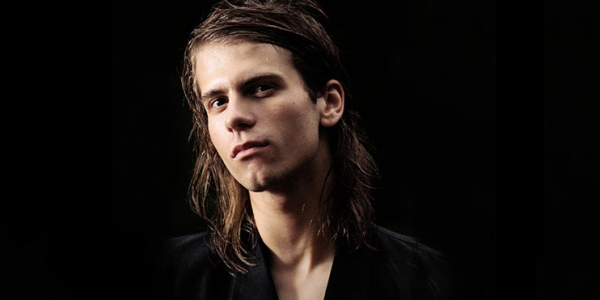 Growing Your Hair in Lockdown
Long hair is something that most men will attempt at least once in their life and not all of you will like it. That's because it requires patience, dedication and frankly, genetic good luck. Long hair does come with a host of benefits, versatility and an air of carefully undone cool.
Benjamin says "there's never been a better time to consider growing out your locks, especially in such uncertain times when hair salons have closed for the foreseeable future. Just like any trend, hairstyles are circular, with the current maxim for long locks a reaction to years of the dominant short back and sides. Gents first started moving towards a softer, Stone Roses-style look and it progressed from there. You always have a phase where everyone's having sharp, short haircuts, then buck the trend and it starts to filter through"
If you want to join them, now's the time but here's what you need to know...

Who can pull off long hair?


The thing with long hair is that it's an attitude as much as it is a look. If you've got the confidence to break away from the pack, then you're halfway there. The mindset and references to look at are the right ingredients to begin with as although there will be times that you'll just want to shave it off, when you have references and a hair plan to go back to, you can look at the stages that your hair will be going through.

Benjamin's advice is that "realistically you need medium to thick hair to grow it long. It's better if it's got a slight wave in it too, so that it doesn't just hang there. Straighter hair is okay and curly hair can work really well as the locks drop out when hair grows. But, if your hair is too fine then it may look wispy. As well as hair type, you'll also need to take your face shape into consideration. "An oval or square jaw will pretty much work with most haircuts but if you've got a particularly round, or long face you have to be mindful that your hair doesn't accentuate that."

Can I make my hair grow faster?


No you can't make it grow any quicker, but getting your hair and scalp in the best condition possible will certainly help, so if you're washing your hair daily, stop and opt for twice a week. If you workout regularly and shower daily just rinse your hair in warm water, this will retain all your natural essential oils - the expensive stuff you pay for in good products.

Although salons are closed Ryan recommends "talking to your stylist about your long-term goals and showing them references, so that they can give you a roadmap of how to get there."


In terms of shortcuts, unfortunately there are none. As far as miracle products such as caffeine shampoo go, "there's just not enough science. If you want decent hair, skin and nails, just make sure you're eating a balanced diet and if you're drinking, make sure you rehydrate. Zinc and collagen are said to be beneficial for hair quality, so multivitamins and supplements could be an option" says Ryan.

How do you maintain long hair?


As your locks move south, it's important to invest in a quality shampoo and conditioner to keep it strong and glossy. This means separate bottles (no two-in-ones) and not just resorting to using whatever is in the bathroom. Benjamin recommends using a tailor made shampoo for your hair type, if your hair is fine the shampoo you should use will be completely different to what you should use if your hair is thick and curly. Benjamin recommends Kerastase or Shu Umerua and they also have a fantastic finishing range too!

"If your hair is in fairly decent nick, you may only need to condition your hair every other wash. If you've got finer hair, you can also use a sea salt spray or hair powders that coat the hair, making it look thicker" says Benjamin.

While shearing off dead ends is important for maintaining a glossy mane, getting a trim doesn't make your hair grow any faster, but will keep your ends in tip-top condition and will remove weight where needed, but try and leave your hair cuts to every 8 weeks - perfect during a lockdown situation!

Longer on Top

What to ask for: A classic scissor taper with square layers on top
Who it suits: Everyone
What it is: Bradley Cooper's current do would be a solid end goal in itself, but Benjamin says "it's also a strong transitional option for anyone who's starting to grow their hair out as this cut can be adapted for pretty much any hair type. The key feature is the taper, which can be cut with a little graduation, or if you have the length on top the angles can be made more extreme. If your hair is very thick it is better to not go too tight.
How to style it: Prep the hair with a light gel, blow dry through with fingers and finish with a holding cream to give the hair a slight hold. If you're looking for something slicker, use a matte clay or pomade throughout.















Longer Quiff

What to ask for: Textured layers, longer on top
Who it suits: Heart-shaped faces, thick hair
What it is: With more length on the sides and slightly feathered layers, Patrick Dempsey's soft quiff is where we start to take a real departure from clipper cuts. "His stylist has point-cut the ends to soften them and the key to this look is making sure your hair is in great condition as hair at this length and colour can look dry and frizzy. This style is particularly good for men with heart-shaped faces as the narrow shape around ears and slight flare at the back "gives the appearance of more balance" says Benjamin.
How it style it: Use salt spray on wet hair before drying to take the shine off. For a little more volume and hold sprinkle in some hair powder, or for a sleeker look with a demi shine, rub some styling paste through the hair while slightly damp.

Medium Curls

What to ask for: A round layer throughout
Who it suits: Medium to thick hair, square or oval face
What it is: Where you'll be a few months in when your curls start to elongate and fall down around your face. As Benjamin points out – "a round layer throughout with some disconnection in layering and weight removed from the sides where necessary."
How to style it: To get Kit Harington's casual swept-back style, use a curl cream to set your curls, leave it to dry naturally, being careful not to touch it while your curls set. "When it is completely dry it may look too shiny and a touch crispy, so to get rid of that Eighties DeBarge look, work some grooming cream in your hands and run it through the hair. This will break up any crunchiness while adding hold" says Benjamin.

Longer and Messier

What to ask for: A universal layer with more length at the front
Who it suits: Medium to thick wavy hair
What it is: Easy maintenance with tonnes of texture. Dev Patel is cold, hard proof of the magic of grooming (see his unbelievable glow-up from awkward TV sixth-former to Oscar-nominated heartthrob). If his tousled, textured mop looks effortless, that's because once you've got the required length, it mostly is. "This is what we call a universal layer," Benjamin explains. "It's about the same length all over – four to five inches on top and three to five inches on the sides, but with more length towards the front. The key to this style is movement. If you've got very thick hair you'll want some of the weight taken out of it, making sure it's soft around the edges with the back cut into."
How to style it: Once you've got the cut sorted, all you need is a touch of curl-enhancing cream before air drying. Benjamin recommends Shu Uemera Kaze Wave Mousse throughout. Patel has admitted he uses facial moisturiser.

The Brad Pitt Mid-Length

What to ask for: Long layered mid length hair
Who it suits: All hair types, as long as it's not too fine
What it is: A versatile haircut that can be worn into many styles. The king of cool hair style as seen in his latest film, but sporting in a more 70's style which is so on point and can easily be changed by using different products and finishing techniques. If your hair is lacking texture, adding superfine colour lights will give the hair more depth as seen here.
How to style it: Such a versatile style, which can be styled in many ways. Wear it natural, or for a more polished look use a hair cream such as Shu Uemera Kengo Feather and sleek it back.
Read More